Why do I recommend Volume Lashing?
You've probably already heard that as a highly-skilled technique, volume lashing is booming in the lash industry right now. Instagram, Facebook, Youtube, you can see millions of posts from lash artists and clients on all the social media. Today in this article I'm gonna show you why you should choose volume lashing than classic lashing and recommend it with your clients as well.
I believe we all know that classic lash application is when a single eyelash extension is placed on a natural lash by using a 1:1 ratio (if you do). It will only make natural lashes appear longer and thicker, and give the appearance of wearing mascara. Volume lash applications occur when multiple eyelash extensions are placed on a natural lash in a fan.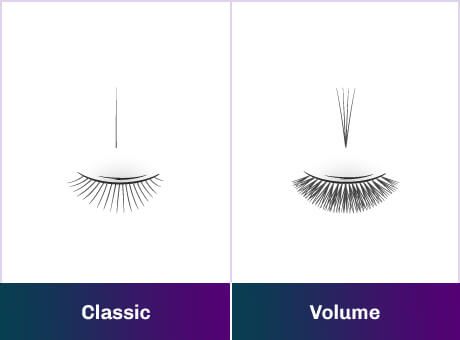 However, for volume and mega volume lash extensions, it is a technique used to achieve a fuller and fluffier look. This is the perfect solution if your clients have sparse or gaps. Volume lashes are much lighter in weight than classic lashes and once you placed on your natural lash, the weight of the fan is evenly distributed around your natural lash to ensure they are never too heavy.
Most importantly, since the volume lashes are lightweight and small in diameter, they are generally more comfortable. In another way, it also means that they often cause less stress on the natural lash than classic lashes. When it comes to retention, it is another advantage of volume/mega volume lashes because of the increased bonding area to the natural lash.
Once a lash artist she or he gets trained and certified with volume and mega volume techniques, she can offer many more advanced looks and style options to their clients than those lash artists only can do classic lash extensions. In the meanwhile, there are endless possibilities and combinations of techniques that can be created from using classic, volume, hybrid, and mega volume lashing.
What's more, from the False Eyelashes Market Research Report shows that by 2023, the demand for eyelash extensions is exploding and it is going to reach more than $1.75 billion USD. Not just classic lash artists, along with volume lash artists, they are growing at a fast speed to meet the demand with luxury eyelashes and other products.
The ultimate competitive advantage will add volume and mega volume to a lash artist's skill set. Those lash artists who can offer the full spectrum of eyelash extension options will maximize their earnings not just skills.
Volume application as an option to empower and expand your professional skills to be a talented lash artist, and as a potential weapon to help you grow your business, if you decide to give it a try, now is the perfect time!
---